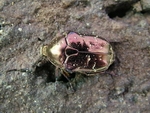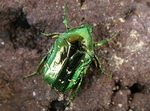 Calopotosia orientalis submarmorea (origin 2)

subgenus: CETONISCHEMA Reitter 1898
species: aeruginosa Drury 1770
origin: France, Vallon de l´Arbuch-Condrieu
wild imago size: 22-28 mm
sexual dimorphism: males have on pygidium intensive dints, females have these dints less evident or sometimes even almost imperceptible
note: Species rarely occurs also in Czech Republic, larvae live in old oak trees (Quercus sp.).In captive breeding, life cycle takes 6-8 months. Adults live up to 1 year. Winter dormancy (diapausis) is not required for successful reproduction although it is better to keep adults in cool place over winter for at least 2 months.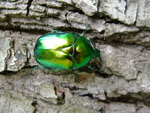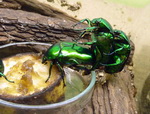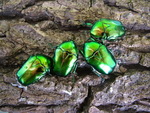 Cetonischema aeruginosa (FRANCE)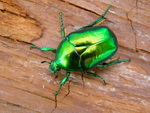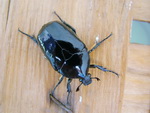 >,>> Cetonischema aeruginosa (CZ), >>> melanic form from Croatia

species: speciosa Adams 1817
subspecies:jousselini Gory & Percheron 1833
origin: Iraq, Turkey, Syria
wild imago size: 20-30 mm
sexual dimorphism: same as for C.aeruginosa

subspecies:cyanochlora Schauer,1941
origin: Iran

subspecies:venusta (Ménétries, 1836)
origin: Turkey, Fethiye


-1- -2- -3- -4- -5- -6- -7- -8- -9- -10- -11- -12- -13-