genus: DICRONORHINA Hope 1837
species: micans (Drury,1773)
origin: Cameroon

species: johnstoni Waterhouse,1902
origin: Zaire

species: derbyana Westwood, 1841
origin: Zambia, Kafue, leg. Petr Malec january/2005
origin2: Tanzania, near Lindi, leg. Petr Malec january/2011
subspecies: layardi Péringey 1882(1892)
origin: Namibia
subspecies: conradsi Kolbe, 1909
origin: Tanzania
subspecies: oberthueri Deyrolle 1876
origin: Tanzania

species: cavifrons (Westwood, 1843)
origin: not known to me, widely in western Africa - Cote d´Ivoire, Ghana, Togo

nature size: 45-60 mm

remark: big attractive cetonids, easy to reproduce. Life cycle takes 8-9 months (2-3 in cocoon stage). Average imago life expectancy is about 3-4 months. I keep larvae together 20-30L3/10-15l of substrate, it is worth to feed larvae pretty much - adults are bigger. Too wet (or too dry) substrate in pupal stage causes elytra deformations.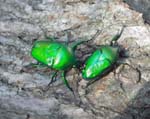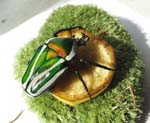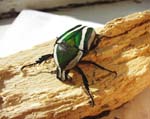 Dicronorhina johnstoni >, Dicronorhina derbyana layardi >>, >>>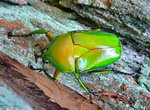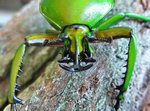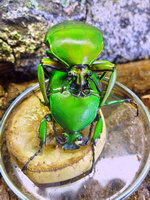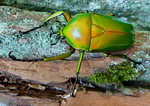 Dicronorhina micans

1st page 2nd page