genus: CYPROLAIS J.Thompson 1880
species: loricata (Janson,1877)
subspecies: rhodesiana (Ruter,1978)
leg. Petr Malec(3/2000); det. Milan Krajčík
origin: Malawi; Dedza

species: babaulti (Allard,1982)
origin: Kenya

species: cornuta (Heath,1904)
origin: Kenya

species: hornimanni (Bates,1877)
origin: Cameroon
subspecies: elgonensis (Allard,1982)
origin: Uganda, Mpanga Reserve 11/2006 lgt.Petr Malec, det. Jean Philippe Legrand

species: selene (Kolbe,1899)
origin: Uganda, Kibale 11/2006

species: aurata (Westwood,1841)
origin: Cameroon 1/2010

species: pythia (Kolbe,1899)
origin: Sierra Leone, Grafton env., 28.4.2013, ex larvae collected in semi-rotten wood, P. Malec leg.

wild imago size: 25-35mm
sexual dimorphism: males with "T" shape horn on clypeus
note: Very easy to breed genus with great reproduction. Adults live sometimes up to 6 months, usually about 3. Life cycle takes about 5 months.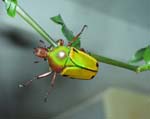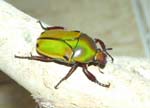 Cyprolais loricata rhodesiana



1st page 2nd page