genus: TRIGONOPHORUS Hope 1831
species: rothschildi Fairmaire, 1891
subspecies: varians Bourgoin, 1914
origin: Taiwan, Jayii County, leg. Wu Shr Yuan 9/2003
wild imago size: 32-36mm
sexual dimorphism: males have frontal clypeal outgrowth spiry, while females dull
note: beetles require diapausis in cocoon stage for about 6 months with reduced moisture

genus: COSMIOMORPHA Saunders, 1852
subgenus: MICROCOSMIOMORPHA Miksic, 1977
species: similis Fairmaire, 1899
subspecies: yonakuniana Nomura, 1964
origin: Japan, Yonaguni Is., coll. 6/2010
wild imago size: 23-26mm
sexual dimorphism: males with abdominal channel on sternits

subspecies: nigra Niijima et Kinoshita, 1927
origin: Japan, Ishigaki Is., Okinawa prefecture coll.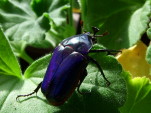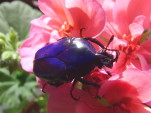 Trigonophorus rothschildi varians - green forms are much more common than blue on these photos (captive bred male)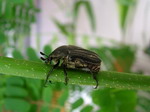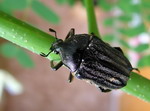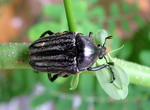 Cosmiomorpha similis yonakuniana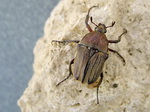 Cosmiomorpha similis nigra