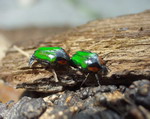 Heterostetha kristenseni

subgenus: OXYTHYREA Mulsant, 1842
species: petit (Gory et Percheron, 1833)
wild habitat: all types of habitats, common in western Africa, flower feeder
origin: Sierra Leone, Loma Mt., 7 km E from Konbaia, V/2013 leg. Petr Malec
wild imago size: 11-12 mm
breeding difficulty: medium to difficult, same as for many Leucocelis, both oviposition and pupal phase are very problematic

species: podicalis (Van de Poll, 1890)
origin: Zambia, near Solwezi, II/2005 leg. Malec Petr
wild imago size: 11-12 mm
breeding difficulty: unknown, only few specimens were found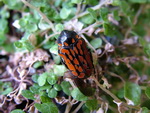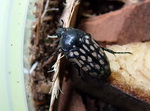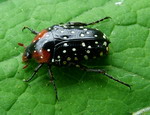 >, >> Oxythyrea petit, >>> O. podicalis

subgenus: CYRTOTHYREA Kolbe
species: marginalis (Swartz, 1817)
wild habitat: Very common species found at numerous locations in South Africa. Typical flower feeder that has been observed on a large variety of plants, often in quantity.
origin: South Africa, Eastern Cape, KwaZulu-Natal, I/2015; I/2017
wild imago size: 11-13 mm
breeding difficulty: Wild collected larvae have been raised to imago, however, no oviposition of captive bred generation was achieved.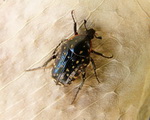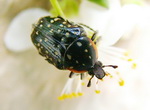 1st page 2nd page 3rd page 4th page 5th page 6th page 7th page